As I'm leaving DEVONthink behind, I still need a way to reference source material I'm taking notes on in Obsidian. Today we're going to talk about doing that in Zotero with the Obsidian plugin Zotero Link.
Installing Obsidian Zotero Link
Before you can install the Zotero Link plugin in Obsidian you need to install two prerequisites. First, you need to install the Obsidian Zotero Bridge plugin. This plugin provides an API for other plugins to use to access your Zotero data. So you could use it to add data to your templates from Zotero via the Obsidian Templater plugin.
Second, Zotero Bridge needs the ZotServer plugin installed in Zotero. This plugin extends Zotero so that it has a local HTTP API. It basically runs a little website you can access that contains only your Zotero content. You'll never actually see this website, but other tools can interact with it.
If you're on Firefox and trying to install ZotServer, then be aware that Zotero uses the same format for extensions that is used in Firefox. This may mean Firefox is going to try and install the ZotServer extension in your browser. Make sure you right click and "Save As…" when you download the extension.
Now that you have Zotero Bridge and ZotServer installed, you're ready to install Zotero Link.
Using Obsidian Zotero Link
Zotero Link provides one command to Obsidian. Press ⌘ P or ctrl P to bring up the Command Palette and search Zotero. You'll see a command come up titled Zotero Link: Insert.
Press Enter and you'll be presented with a list of your Zotero documents in a searchable pane.
You can navigate up and down with your arrows keys, and if you don't see the document you're looking for, type in the title of the document.
Once you've found the document you're looking for, press Enter while it's highlighted and a link to your document will be inserted into your Obsidian note.
That's all the plugin does, provides you with a way to link directly back to a document in Zotero from Obsidian. As expected, these links work across devices and platforms. So I can create a link in Linux or macOS (I don't own so haven't tried Windows) and then clicking it on either platform will open up the document in your local Zotero installation.
Minor Issues
There are some issues with the integration though. First, I've found the search to be only okay. I can always find the document I'm looking for, but if there is punctuation in the title it seems to give the Zotero Link search a hard time and I may have to try a few times to get the expected document to show up.
Second, this won't work on iPadOS since you can't install the ZotServer plugin there and thus don't have the required API to get links to documents. Not only can you not insert links, but the link in your Obsidian document will not take you to Zotero on iPadOS. So if iPadOS is a big part of your research process, this may not be the tool you've been looking for.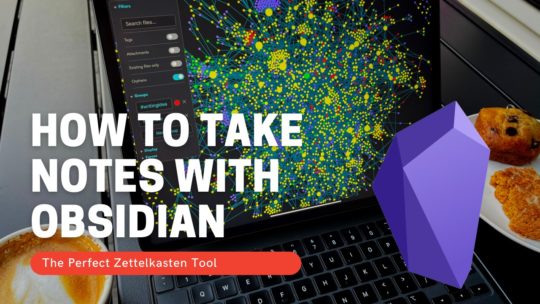 Getting Started with Obsidian
If you want to learn your way around Obsidian so that you can build a great note system then this course is for you. I'll cover basic folder structure when to use tags or links, and the plugins I think everyone needs to make their Obsidian experience excellent. Plus much more. If you want all my courses, become a member.
$99 USD (30-day guarantee)